Advanced Media Player for Alive
Train for hours while watching your favorite movies.
Advanced Media Player is one of Somatic Visions most popular games for neurofeedback, and is now available for use with Alive – just open Alive and select Advanced Media Player from the games drop down list. All sessions are saved and count towards Alive points and training time.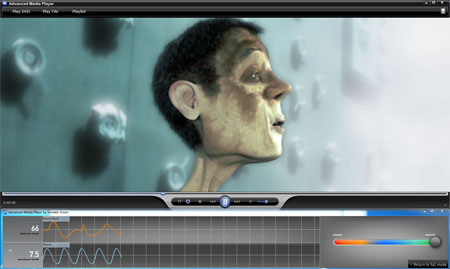 Why add Advanced Media Player to Alive?
Have fun watching your favorite movies while training any Alive measurement.
Train for hours without getting bored.
Makes training fun and easy.
Train with video clips that trigger specific fears or difficulties.
View educational content while training for an improved learning experience.
Price

Advanced Media Player for Alive
(downloadable version, serial number in 1 business day)

$295

Minimum System Requirements
Windows XP, Windows Vista, Windows 7, Windows 8, Windows 10
Alive, Alive Clinical or Alive Pioneer with any Alive compatible sensor
1 GB of Free Disk Space
Advanced Media Player may only be used on one computer at a time. Advanced Media Player can be installed on two computers as long as only one copy of Advanced Media Player is in use at any given time.
Advanced Media Player uses VLC Player to play DVDs and movies. If you already use VLC Player it will be modified, and can no longer be updated, if you install Advanced Media Player.
Licensing and patent information
© 2009-2016 Somatic Vision Inc. Alive and Advanced Media Player are trademarks of Somatic Vision Inc. All rights reserved. Manufactured under license from Quantum Intech, Inc. Quantum Intech and the Quantum Intech logo are trademarks of Quantum Intech, Inc. in the U.S. and other countries. HeartMath and the HeartMath logo are trademarks or registered trademarks of the Institute of HeartMath in the U.S. and other countries. All other trademarks belong to their respective owners. Coherence algorhithms contained within this product licensed from and © 1999-2010 Quantum Intech, Inc, with all rights reserved, and are protected by the following patents in the US: 6,358,201; 7,117,032; 7,163,512; 7,462,151 and 8,066,637. Other patents include: European Union 1156851; Canada 2,365,032; Australia 770323; China ZL00807109.8; Hong Kong HK1042056; Japan 4410234; Korea 10-0616370