Particle Editor 3 for Alive
Leave stress behind in a fascinating world of visual environments
Each mini-game environment responds to stress levels measured by your heart rate and finger sweat* —allowing you to control the audio and visual environment with your mind.
Particle Editor has been proven in clinical settings to be an effective tool for physiotherapists to use with patients of all ages and walks of life. The appeal of the music and visual environments within Particle Editor is universal! Everyone loves the power to have an effect on the world around them.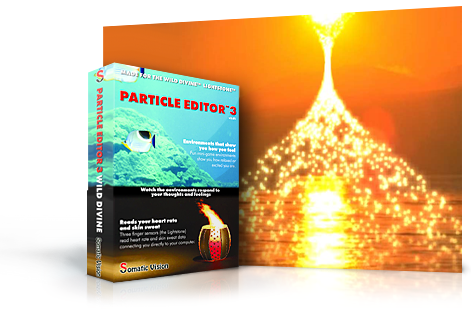 Globally, programs including Particle Editor have helped people improve their ability to concentrate and more calmly advance toward achieving life goals. These programs have also helped people with health advisories or demanding physical careers reduce strain that is regularly put on their hearts.
*Finger sweat (SCL) environments are only for Alive Clinical when used with an IOM sensor.
Why Particle Editor?
Improves performance in school, playing sports and at work.
Adults learn to stay relaxed in challenging situations.
Kids learn how to relax while playing a video game.
Price

Particle Editor 3 for Alive
(downloadable product, serial number in 1 business day)

$89

Minimum System Requirements
Windows XP / Vista / Windows 7 / Windows 8 / Windows 10 operating system
- or -
Mac OS X 10.6 or higher
Alive, Alive Clinical or Alive Pioneer with any Alive compatible sensor
500 MB of Free Disk Space