Dual Drive Pro
Busy family? High pressure job? Are you an athlete or a performer?
Dual Drive is a new kind of car-racing game: Relax to win! As you play, you'll use breathing to control your stress levels. A proven tool for peak performance and stress reduction in a fun game format.
Worldwide, clinical programs including Dual Drive have helped people improve their ability to concentrate and advance toward achieving life goals. These programs have also helped developing children, busy families, and people in demanding physical careers reduce stress.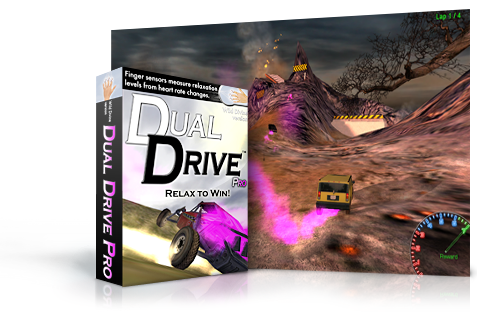 Why Dual Drive?
Improves performance in school, playing sports and at work.
Adults learn to stay relaxed in challenging situations.
Kids learn how to relax while playing a video game.
Orders with finger sensors arrive within 5-10 days.
For international orders, please allow 1-3 weeks.
Price

Dual Drive Pro Bundled Mega Package(finger sensors included)
includes Dual Drive Pro, Particle Editor 3, and Inner Tube 3

$579
$495

Dual Drive Pro Software Only
(without finger sensors)

$149
$99

Dual Drive Pro Download Version
(software only, serial number in 1 business day)

$149
$99

Features and Description

All the fun of video games, with a health benefit
Just because Dual Drive has a positive purpose doesn't mean it's a snooze. Players are able to choose their own car, customize its color, and then choose from among many different missions.
Cars: Police Car, Camaro, Hummer, Dune Buggy, Brock, Cobra, or Muscle Car
Missions: Basic Race, Arctic Iceberg, Aztec Swamp, Coastal Sunset, Lava Land, Lost Desert, Mountain Climb, Oasis Splash, and Snowfall
Track your heart rate

Dual Drive responds to heart rate rhythms and finger sweat changes as measured by USB finger sensors. Heart rate and finger sweat changes are reliable measures of stress and relaxation.
Dual Drive includes tracking and review features that let you view detailed graphs of your heart rate and relaxation levels. Progress reports and session review show your increasing abilities to relax.

Minimum System Requirements
Wild Divine Lightstone or IOM finger sensors
Windows XP / Vista / Windows 7 / Windows 8 / Windows 8.1 operating system
Intel Pentium IV Processor
128 Mb OpenGL Video Card
512 MB RAM
CD-Rom drive
500 MB of Disk Space
Dual Drive may only be used on one computer at a time. Dual Drive can be installed on two computers as long as only one copy of Dual Drive is in use at any given time.