Particle Editor 3
Leave stress behind in a fascinating world of visual environments
Each of 100 mini-game environments respond to stress levels measured by your heart rate and finger sweat —allowing you to control the audio and visual environment with your mind.
Particle Editor has been proven in clinical settings to be an effective tool for physiotherapists to use with patients of all ages and walks of life. The appeal of the music and visual environments within Particle Editor is universal! Everyone loves the power to have an effect on the world around them.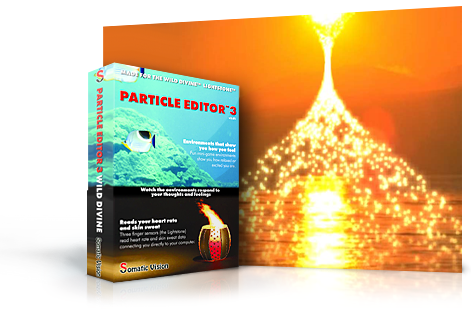 Globally, programs including Particle Editor have helped people improve their ability to concentrate and more calmly advance toward achieving life goals. These programs have also helped people with health advisories or demanding physical careers reduce strain that is regularly put on their hearts.
Why Particle Editor?
Improves performance in school, playing sports and at work.
Adults learn to stay relaxed in challenging situations.
Kids learn how to relax while playing a video game.
Orders with finger sensors arrive within 5-10 days.
For international orders, please allow 1-3 weeks.
Price

Bundled Mega Package (finger sensors included)
includes Inner Tube 3, Particle Editor 3, Dual Drive Pro

$579
$495

Particle Editor 3 Software Only
(without finger sensors)

$89

Particle Editor 3 Download Version
(software only, serial number in 1 business day)

$89

Particle Editor 3 for Alive
(Particle Editor downloads and installs into the required Alive software, serial number in 1 business day)

$89

Features and Description

Relaxation is beautiful.
Particle Editor 3 is loaded with features that make it adaptable to many audiences and settings:
A new, easy-open Launcher with images showing each environment
33 professional music pieces
100 new and improved environments
Easy in-game instructions and relaxation suggestions
Highly accurate stress measurements
Relaxing music changes volume with your stress levels
Line graph and numeric displays quantify your changes
Responds to heart rate, heart coherence (HRV), finger sweat and sweat stability
Unique SomaSense™ technology insures that you will see and be able to control your stress level measurements on your first use. Easy-to-use, simple-to-install finger sensors (USB) read heart-rate, heart coherence (HRV), skin sweat and sweat stability.
Build, customize and save your own active feedback mini-games.Create, modify, save, load and trade beautiful mini-game environments that respond to heart-rate, heart-coherence and skin-sweat. 20 feedback settings can be linked to 6 physiological measurements for millions of feedback combinations. Choose from over 30 professional music pieces or load any .mp3 that you own. Huge background and particle image library lets you easily create new, personalized games!
Track your heart rate

Particle Editor 3 responds to heart rate rhythms and finger sweat changes as measured by USB finger sensors. Heart rate and finger sweat changes are reliable measures of stress and relaxation.

Minimum System Requirements
Wild Divine Lightstone or IOM finger sensors
Windows XP / Vista / Windows 7 / Windows 8 / Windows 8.1 operating system
Intel Pentium IV Processor
128 Mb OpenGL Video Card
512 MB RAM
CD-Rom drive
500 MB of Disk Space
Particle Editor may only be used on one computer at a time. Particle Editor can be installed on two computers as long as only one copy of Particle Editor is in use at any given time.