Alive Comprehensive Stress Management & Mental Performance Training
Alive
BIOFEEDBACK GAMES & TOOLS
Alive is the foundation of all Somatic Vision Games.
Alive gives you an array of engaging software games designed to help you build mental performance and the ability to better manage daily stress while having fun. Using the same proven training technologies used by winning athletes and in clinics worldwide, Alive includes effective coaching tools and individual performance tracking.
Standalone Products
For those who already have Lightstone or Wild Divine finger sensors — or those who want the complete legacy package including finger sensors — Somatic Vision is continuing to offer its legacy and standalone games. These games have been very successful in clinical settings, helping children, parents, executives, and others use biofeedback to control their stress levels and achieve better mental and physical performance.



Dual Drive Pro

FOR WILD DIVINE LIGHTSTONE

Relax to win this off-road racing game.

Dual Drive responds to reliable measures of stress and relaxation: heart rate rhythms and sweat changes.

With Dual Drive, you can master proven tools for peak performance and stress reduction. You can also learn to control your heart rate with your breathing in a step-by-step tutorial and benefit from progress reports and session reviews showing your increasing ability to relax.




Particle Editor 3

FOR WILD DIVINE LIGHTSTONE

100 Fun & Relaxing Mini-Game Environments that you can customize yourself!

Particle Editor 3 Mini-Games come in a wide variety of visual styles, and each game responds to the stress levels reflected by your heart rate and finger sweat.

Control each Mini-Game Environment with your mind as graphics and music guide you directly into deep states of relaxation and peace.




Inner Tube 3

FOR WILD DIVINE LIGHTSTONE

Now with 3 new ships and 60 additional levels!

Relax to win: Control ship speed with your mind. Race against the clock to the end of 80 tunnel levels while ship speed, fog, and music respond to stress levels.

Fun for kids, teens and gamers. Teaches useful skills to parents, athletes, executives and anyone who needs to stay relaxed, responsive and resourceful under pressure.
Finger sensors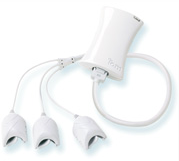 Sensor resources
Somatic Vision develops software for specific biofeedback sensors. If you already have one of these sensors, we offer a software-only download of Alive. For those just embarking on a biofeedback experience, we offer Alive packaged with the sensor hardware.

There may be cases where you wish to purchase a replacement or additional sensor. It's simple! Though we do not ourselves sell hardware only, you can easily order the Alive-compatible sensors from Wild Divine.


Alive will soon be available in a version that works with the HeartMath emWave sensor. Though we will offer full packages of Alive including this sensor, replacement sensors can be purchased directly from HeartMath.